Yelena and "The Far East Space" painting at "Chukotka - the Territory of beauty" exhibition opening.
Moscow, Tushino gallery, December 2004.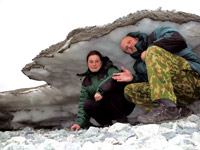 Under Chukotka's ice roof

Chukotka for two
Yelena Emets -
art historian, philologist, Sergey's faithful travelling (and life's) companion. Co-author of the texts for the albums and films, author of English translations.
Creativity